Houston Hurricane Damage Repair
Roof damage from Hurricane Harvey 2017 can range anywhere from mild to severe, depending upon how hard the storm hits your residential area and depending upon the current condition of your roof. Strong winds associated with the storm can rip shingles and tiles from your roof like playing cards, damage underlying roofing layers and even jeopardize the structural integrity of the entire roofing system itself. Call .us today if you need a Houston Hurricane Damage Repair Estimate.
EXPECT ROOF DAMAGE FROM HURRICANE HARVEY 2017?
Tropical Storm Harvey 2017 has reformed in the Gulf of Mexico into a tropical depression as of Aug. 23 and has strengthened into a category 3 hurricane combining torrential rains, storm surge and winds to the Greater Houston Metropolitan Area. Slow-moving storms are feared because of the heavy amounts of rain that can fall when the storm slows and stalls on the coast or on inland areas. Plus, storms of this nature often produce dangerous winds that can heavily damage property. Overall, the storm can produce extremely dangerous flood and wind conditions for Harris County and the Houston Metro Area. These high winds and heavy rain can easily bring down trees that can damage your roof. If you suspect you might need roof repair call Strata Roofing and Construction.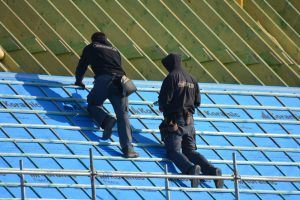 PROVIDING HOUSTON HURRICANE DAMAGE REPAIR SERVICES FROM HURRICANE HARVEY
Call roofing professionals right away when you can see or even suspect your roof is damaged by Hurricane Harvey. The worst thing you can do is delay and wait days to contact help for your home's roof. Hurricane damage to roofs is not always obvious or visible from the ground. You can expect Hurricane Harvey to cause widespread damage.
Houston Office
4133 Katy Hockley Rd
Katy, TX 77493
Phone: (281) 819-6852
Lufkin Office
207 East Frank Street, Suite 107
Lufkin, TX 75901
Phone: (936) 206-5133
Commercial roofing requires skill and precision. Our expert roofers have years of experience installing and repairing roofs for commercial establishments
Whether it is a small roof leak, or a full roof replacement project, homeowners trust Strata Roofing and Construction to get the job done efficiently and affordably.
Our extensive construction services can make your home or business look like new.