Houston Wood Shake Roofing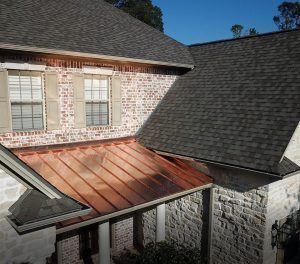 Houston Wood Shake Roofing will improve the look of your home, adding individual style and authentic quality to its appearance. Contact Strata Roofing and Construction, Houston, to talk with our roofing professionals on the benefits of Houston Wood Shake Roofing installation for your home. We can help you review the many color themes, shapes, sizes and styles available to fit the character of your home.
Houston Wood shake roofing has been popular for many years and offers a cost-effective and beautiful roofing system solution for your home. Because wood shakes are made of natural materials, they offer a unique, authentic character to your house, and since wood is a dependable insulator, they provide energy conservation to your home as well. Wood shakes are factory treated for fire resistance, making them a safe and effective option.
There are many advantages to installing wood shakes, including resistance to:
Ultraviolet rays of the sun
Insects and other pests
Harmful expansion when wet, maintaining its size and shape because the material is low density
Shrinking, warping, tearing, breaking and puncturing compared to other roofing materials
Moss, algae, and fungus with a factory treatment
Fire and flame
Winds and storm events
When installed properly and securely, the high strength of wood shakes actually can boost the roof's structural potential
HOUSTON WOOD SHAKE ROOFING INSTALLATION, SERVING THE HOUSTON METRO AREA AND SURROUNDING COMMUNITIES
Strata Roofing and Construction is proud to employ professional roofing experts and builders, serving the Houston Metro Area and surrounding communities, including Spring, Cypress, Sugarland, Katy, League City, Rockport, and Lufkin.
It is important to select a reputable installation contractor to make sure your wood shake roof is installed properly. Our customers are confident in knowing Strata Roofing is fully licensed, bonded and insured in Texas and an Accredited Business with Better Business Bureau since 2008 with an A+ rating. You may see our latest reviews from our customers on Top Rated Local. Strata Roofing is a certified Weather Stopper Roofing Contractor with GAF, a Certainteed ShingleMaster and Master Shingle Applicator with Saint-Gobain.
Houston Office
4133 Katy Hockley Rd
Katy, TX 77493
Phone: (281) 819-6852
Lufkin Office
207 East Frank Street, Suite 107
Lufkin, TX 75901
Phone: (936) 206-5133
Commercial roofing requires skill and precision. Our expert roofers have years of experience installing and repairing roofs for commercial establishments
Whether it is a small roof leak, or a full roof replacement project, homeowners trust Strata Roofing and Construction to get the job done efficiently and affordably.
Our extensive construction services can make your home or business look like new.