Houston Single-Ply Roofing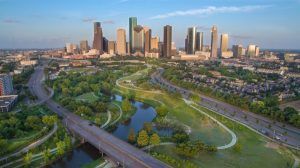 Houston Single-ply Roofing is a roofing system that uses manufactured materials to form a waterproof membrane in sheet form that is installed in a single layer on top of roofing insulation. Single ply roofing installation can be a good selection for mainly commercial and industrial buildings, and some residential properties, depending on the slope of the roof and other important considerations. Single ply is estimated to be used on as many as fifty percent of the roofs of commercial, industrial, institutional and manufacturing buildings.
The highly experienced roofing professionals at Strata Roofing and Construction, Houston, are available to consult with you to help you make a good decision on the type of roof installation for your property. Strata Roofing is fully licensed, bonded and insured in Texas and an Accredited Business with Better Business Bureau since 2008 with an A+ rating.
Strata Roofing & Construction serves the Houston Metro Area and surrounding communities, including Spring, Cypress, Sugarland, Katy, League City, Rockport, and Lufkin.
Single ply membrane roofing has a long history of success as a roofing system of choice for many applications.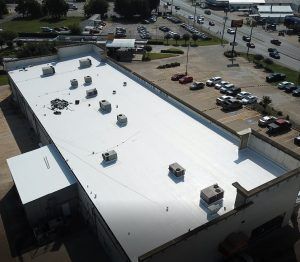 ADVANTAGES OF HOUSTON SINGLE PLY ROOFING:
Lightweight
Flexibility of use on many different types, designs, and sizes of roofs
Ability to remain intact in cool and warm weather
Good alternative in areas prone to severe weather and hurricanes
Very flexible in its installation and use
Excellent resistance to ultraviolet radiation
Highly reflective of sunlight
Easy and quick installation
Affordable
Disadvantages of Houston Single Ply Roofing:
Shorter longevity compared to other roofing materials
Limited to lower-angle or lower-grade roofs, high-slope roofs are poor candidates
Thin material is vulnerable to ripping and punctures, creating risks for leaking
Houston Office
4133 Katy Hockley Rd
Katy, TX 77493
Phone: (281) 819-6852
Lufkin Office
207 East Frank Street, Suite 107
Lufkin, TX 75901
Phone: (936) 206-5133
Commercial roofing requires skill and precision. Our expert roofers have years of experience installing and repairing roofs for commercial establishments
Whether it is a small roof leak, or a full roof replacement project, homeowners trust Strata Roofing and Construction to get the job done efficiently and affordably.
Our extensive construction services can make your home or business look like new.