Houston Corrugated Metal Roofing
Houston Corrugated Metal Roofing is among the most cost-effective options for roofing, even approaching the affordability of asphalt shingles, especially considering how strong, long-lasting, efficient and low maintenance corrugated metal roofing is. Corrugating the thin metal material—typically 26 or 29 gauge thick steel or aluminum, makes the roofing material much more sturdy and reliable as it is processed into the common U- or V-shaped patterns. And today's modern steel corrugated roofing material is galvanized with a zinc finish to prevent corrosion, visible rust and holes. Plus, galvanized metal roofing panels are available with an additional protective layer—paint. Panels are installed to overlap and screwed down into the structural surface of the roof. Caulk is applied to the joint of the two panels to prevent leaking.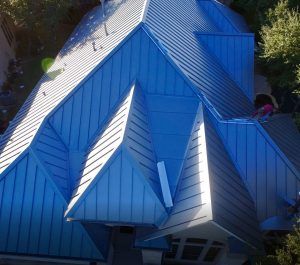 THE VALUES OF HOUSTON CORRUGATED METAL ROOFING
Find out just how durable, adaptable, maintenance-free, energy efficient and affordable corrugated metal roofing can be. Contact the roofing installation experts at Strata Roofing and Construction, Houston, for a free consultation and estimate for your residential or commercial property. Corrugated roofs are a great choice, too, for industrial, storage and agricultural buildings and available in different types, including painted, standing seam, R-panel, 5 V-crimp, stone-coated and non-stone coated product. Explore the wide variety of paint colors and finishes for corrugated metal roofing systems that will beautify and protect your property.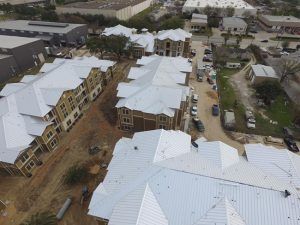 CORRUGATED METAL ROOFING: ADVANTAGES
Corrugated metal roofing offers a number of significant advantages over other roofing options.
– Affordability. Corrugated metal roofs are a relatively low-cost option for roofing materials and quick to install.
– Environmentally friendly. New panels contain recycled material, and used panels can be re-used and recycled.
– Energy efficient. The metal panels reflect the hot rays of the sun.
– Durability. Corrugated metal roofs have up to Class A fire ratings.
– Style choices. A large range of paint color and finish options are available.
– Aesthetics. Corrugated metal roofing offers a classic, time-honored, modern, yet historic visual appeal.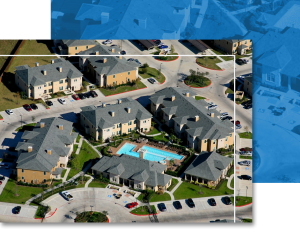 SERVING THE HOUSTON METRO AREA WITH HIGH-QUALITY METAL ROOFING SYSTEMS
Strata Roofing and Construction provides corrugated metal roofing installation throughout the Houston Metro Area and surrounding communities, including Spring, Cypress, Sugarland, Katy, League City, Rockport, and Lufkin.
Houston Office
4133 Katy Hockley Rd
Katy, TX 77493
Phone: (281) 819-6852
Lufkin Office
207 East Frank Street, Suite 107
Lufkin, TX 75901
Phone: (936) 206-5133
Commercial roofing requires skill and precision. Our expert roofers have years of experience installing and repairing roofs for commercial establishments
Whether it is a small roof leak, or a full roof replacement project, homeowners trust Strata Roofing and Construction to get the job done efficiently and affordably.
Our extensive construction services can make your home or business look like new.