Hail Damage Roof Repair
Roofing Professionals Houston
Don't Let An Icy Barrage of Pellets Compromise Your Roof
We all know how intense hail damage can be in Houston. Your roof can be severely compromised by a shower of frozen precipitation raining down, destroying on homes and other buildings in the wake. Meteorologists reported that the greater Houston metropolitan area has experienced up to six hailstorms in a single year since 2004, which causes serious damage to roofs. For hail damage roof repair from roofing professionals in Lufkin, Cypress, Sugarland, Katy, League City, and Rockport, then contact us today.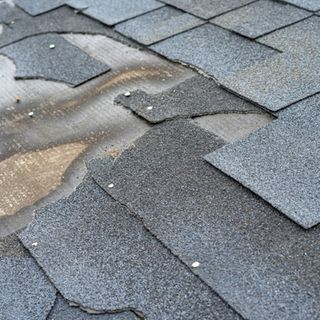 We Are a Full-Service Hail Damage Repair Company
We have full-service hail damage repair contractors, providing:
Leak detection and Repairs
Hail and Storm Damage Repairs
Emergency Roofing Repair
And more!
Hail can cause serious damage to roofs, including tearing shingles, ripping holes through the roof, putting roof materials, and even tearing through lower layers of roofs, in what is known as underlayment bruising. In severe cases, water will leak into your home or business as the opening gets larger, causing more structural damage to your building.
HOUSTON HAIL DAMAGE REPAIR SERVICES
When a hailstorm strikes in your area, call the roofing experts at Strata Roofing and Construction in Houston to complete a comprehensive inspection of your roof and home and provide a quote for repair damage from hail. Damage from hail may not always be obvious to spot, but our roofing technicians are trained to identify hard-to-see damage to shingles, tiles underlayment and other roofing materials. Hail can cause pitting, make depressions and cause roofing materials like shingles to lose the top layer of granules. Hail can even cause damage to underlying layers, including asphalt, fiberglass and the sealant.
Select a reputable roofing contractor when you suspect your roof is damaged by a hailstorm. Strata Roofing is fully licensed, bonded and insured in Texas and an Accredited Business with Better Business Bureau since 2008 with an A+ rating. Our top objective is achieving 100-percent satisfaction with our customers. Check out the latest reviews from our customers on Top Rated Local. Strata Roofing is a certified Weather Stopper Roofing Contractor with GAF, a Certainteed ShingleMaster and Master Shingle Applicator with Saint-Gobain.
Strata Roofing and Construction provides repairs to hail-damaged roofs in the Houston Metro Area and surrounding communities, including Spring, Cypress, Sugarland, Katy, League City, Rockport, and Lufkin.
Houston Office
4715 Pinemont Dr. Suite C
Houston, TX 77092
Phone: (281) 819-6852
Lufkin Office
207 East Frank Street, Suite 107
Lufkin, TX 75901
Phone: (936) 206-5133
CONTACT US
Strata Roofing and Construction, LLC.
Commercial roofing requires skill and precision. Our expert roofers have years of experience installing and repairing roofs for commercial establishments
Whether it is a small roof leak, or a full roof replacement project, homeowners trust Strata Roofing and Construction to get the job done efficiently and affordably.
Our extensive construction services can make your home or business look like new.