Houston Metal Shingles stand the test of time and provide a more refined appearance to your home or business. Let the roofing experts at Strata Roofing and Construction, Houston, show you the numerous designs and attractive color selections available to perfectly match the aesthetics of your residential or commercial property.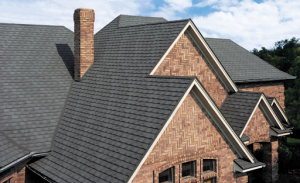 ADVANTAGES OF HOUSTON METAL SHINGLES
Houston Metal Shingles with either stone-coated or non-stone coated surfaces can look just like clay tiles, shakes or slate roofing, without the extra weight. Shingles made of metal offer a tempting option for your new roof. Metal shingles are a wise roofing choice for a number of reasons:
Longevity. Metal shingles can last decades longer than conventional shingles, up to 50 years, compared to 20 to 30 years for asphalt shingle roofs.
Durability. Wide temperature variances will not damage metal shingles. Metal shingles will not burn, deteriorate, crack, flip, lift, rot, shift, tear or warp as conventional composite or asphalt shingles can.
Ease of installation. If allowed by your local building codes, metal shingles may be a great retrofitting solution to install the metal shingles right on top of the existing conventional asphalt shingle roof. This can reduce the noise level commonly associated with a metal roof.
Energy efficiency. Enjoy lower monthly energy bills with metal shingles.
Virtually indestructible. Metal shingles are low-maintenance roofing products resistant to harsh weather conditions, ultraviolet rays, rotting, insects, pests and fire.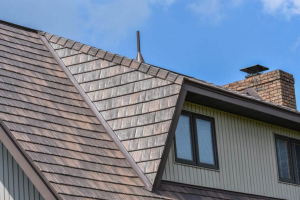 ROOFING SERVICES FOR THE HOUSTON METRO AREA AND SURROUNDING COMMUNITIES
Select a professional roofing contractor to perfectly install your new metal shingle roof to last the maximum number of years with minimal maintenance. Strata Roofing and Construction serves the Houston Metro Area and surrounding communities, including Spring, Cypress, Sugarland, Katy, League City, Rockport, and Lufkin.
Houston Office
4715 Pinemont Dr. Suite C
Houston, TX 77092
Phone: (281) 819-6852
Lufkin Office
207 East Frank Street, Suite 107
Lufkin, TX 75901
Phone: (936) 206-5133
Commercial roofing requires skill and precision. Our expert roofers have years of experience installing and repairing roofs for commercial establishments
Whether it is a small roof leak, or a full roof replacement project, homeowners trust Strata Roofing and Construction to get the job done efficiently and affordably.
Our extensive construction services can make your home or business look like new.