Houston Asphalt Shingles are clearly the most common type of roofing material used in the United States, mainly because of their relatively low initial cost outlay and ease of installation. Asphalt shingles offer very good waterproofing protection for your home or business and are available in a wide variety of colors, patterns, and shapes to match the looks of your property. There are two basic kinds of the underlying layer of an asphalt shingle: either fiberglass or less common—organic made from wood fibers and other materials. Asphalt shingles generally are manufactured in two configurations: Three-tab shingles, and architectural or dimensional shingles. The dimensional type is thicker and more durable than three-tab shingles, which are cheaper and weigh less. Dimensional shingles may last 25 to 30 years or more, while three-tab shingles may last 15-20 years.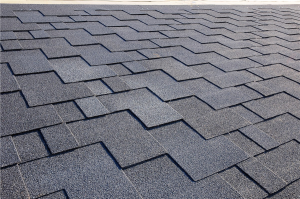 GUIDING YOUR DECISION ON USING HOUSTON ASPHALT SHINGLES
The expert roofing team Asphalt Strata Roofing and Construction, Houston, is ready to answer your questions about using asphalt shingles for your roof. Selecting the material for your roof is the primary decision that must be made, and we can help you make that an easier choice by explaining the pros and cons of roofing materials and the differences between types of asphalt shingles. We will make home improvement easier for you by helping you review the various color patterns available in asphalt shingles that can give your home more pizzazz and curb appeal.
HIGH-QUALITY ROOF INSTALLATION FOR THE HOUSTON METRO AREA
Strata Roofing and Construction offers both three-tab asphalt shingles and architectural asphalt shingles by the top manufacturers that will improve the protection, safety, and aesthetics of your home or business. We serve the Houston Metro Area and surrounding communities, including Spring, Cypress, Sugarland, Katy, League City, Rockport, and Lufkin.
Houston Office
4133 Katy Hockley Rd
Katy, TX 77493
Phone: (281) 819-6852
Lufkin Office
207 East Frank Street, Suite 107
Lufkin, TX 75901
Phone: (936) 206-5133
Commercial roofing requires skill and precision. Our expert roofers have years of experience installing and repairing roofs for commercial establishments
Whether it is a small roof leak, or a full roof replacement project, homeowners trust Strata Roofing and Construction to get the job done efficiently and affordably.
Our extensive construction services can make your home or business look like new.