Houston EPDM Roofing, also known as rubber roofing, is a fast, flexible and affordable solution for roofing, especially low-angle roofs. EPDM—ethylene propylene diene terpolymer—is well suited for commercial and industrial buildings, patios, garages, carports, and certain residences.
EPDM rubber roofing is a very affordable option, and installation is generally speedy. There are other advantages to this type of roof, including its lightweight and easy adaptation to many sizes and types of roofs. The EPDM roofing technology has been used successfully since the 1970s. EPDM is fire resistant, UV resistant, wind resistant, hail resistant and waterproof. A large sheet can cover a significant area of a roof, and the material is flexible, accommodating settling of a building and extreme variations in temperature. Repairs to EPDM roofs are relatively easy, quick and affordable. The product has longevity going for it too, as some EPDM roofs have lasted more than 50 years. The material insulates the building and is recyclable, although the roofing material lasts for a long time.
Some view EPDM as having one drawback—its appearance. Those considering EPDM roofs, however, should know that the surface may be painted in any color of special acrylics, making EPDM an attractive roofing choice. Call Strata Roofing & Construction, Houston, to meet with one of our roofing experts to discover how EPDM can be a great roofing choice for your home or business.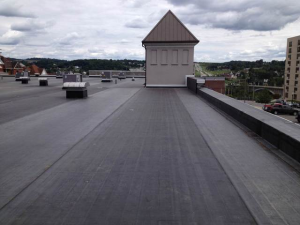 SERVING THE HOUSTON METRO AREA AND SURROUNDING COMMUNITIES
Talk to the roofing experts at Strata Roofing and Construction for expert advice on when EPDM is a good alternative as a roofing system. We have many years of experience installing EPDM roofing in the Houston Metro Area and surrounding communities, including Spring, Cypress, Sugarland, Katy, League City, Rockport, and Lufkin.
Strata Roofing is fully licensed, bonded and insured in Texas and an Accredited Business with Better Business Bureau since 2008 with an A+ rating. Check out the latest reviews from our customers on Top Rated Local. Strata Roofing is a certified Weather Stopper Roofing Contractor with GAF, a Certainteed ShingleMaster and Master Shingle Applicator with Saint-Gobain.
Houston Office
4133 Katy Hockley Rd
Katy, TX 77493
Phone: (281) 819-6852
Lufkin Office
207 East Frank Street, Suite 107
Lufkin, TX 75901
Phone: (936) 206-5133
Commercial roofing requires skill and precision. Our expert roofers have years of experience installing and repairing roofs for commercial establishments
Whether it is a small roof leak, or a full roof replacement project, homeowners trust Strata Roofing and Construction to get the job done efficiently and affordably.
Our extensive construction services can make your home or business look like new.