Houston Modified Bitumen Roofing
Houston Modified Bitumen Roofing can offer an excellent solution and good protection for flat or low-angle roofs for residential and commercial buildings. Modbit, as some call it, uses modified rubber or plastics with added polymer compounds to make it rubber or plastic like. Added fiberglass, polyester or other fibers add insulating properties. Rolls are typically available up to 39 inches wide.
Introduced in the 1970s to the United States, the roofing method is applied in one- to three-ply and often require a gas torch to apply the systems. The heat of the torch seals the seams together, allowing the system to become waterproof. Modified bitumen is fast becoming the go-to method for roofing flat surfaces as its strength and durability are well known, according to recent roofing industry reports. Modbit roofs can have a useful life of 20 years or more partly because the roofing system is very strong when applied properly.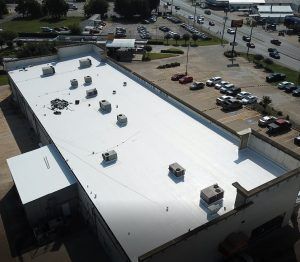 ADVANTAGES OF HOUSTON MODIFIED BITUMEN ROOFING:
Membranes are strong and are hard to tear, puncture and damage
Low maintenance requirements
Wide rolls offer easy installation with big overlaps
Several methods available for installation, such as cold application, hot application, gas torch, and self-adhering
The product can be recycled
Available in more colors than other roofing products, including EPDM
Affordable
Disadvantages of Modified Bitumen Roofing:
Gas torch application creates a secondary fire risk
Overlaps of material can become a site of leaks
May not be the best option with higher-pitched roofs where shingles may be a better choice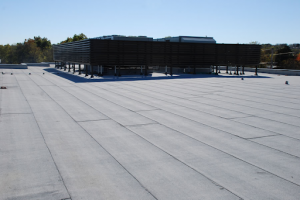 MODIFIED BITUMEN ROOFING SYSTEMS INSTALLED IN THE HOUSTON METRO AREA
Discover the advantages of a modified bitumen roofing system installed by Strata Roofing and Construction. We serve the Houston Metro Area and surrounding communities, including Spring, Cypress, Sugarland, Katy, League City, Rockport, and Lufkin.
Strata Roofing is fully licensed, bonded and insured in Texas and an Accredited Business with Better Business Bureau since 2008 with an A+ rating. Check out the latest reviews from our customers on Top Rated Local. Strata Roofing is a certified Weather Stopper Roofing Contractor with GAF, a CertainTeed Shingle Master and Master Shingle Applicator with Saint-Gobain.
Houston Office
4133 Katy Hockley Rd
Katy, TX 77493
Phone: (281) 819-6852
Lufkin Office
207 East Frank Street, Suite 107
Lufkin, TX 75901
Phone: (936) 206-5133
Commercial roofing requires skill and precision. Our expert roofers have years of experience installing and repairing roofs for commercial establishments
Whether it is a small roof leak, or a full roof replacement project, homeowners trust Strata Roofing and Construction to get the job done efficiently and affordably.
Our extensive construction services can make your home or business look like new.