R-panel is an adaptable and affordable metal panel roofing material used an affordable and highly adaptable alternative to other more conventional roofing solutions such as asphalt shingles. R-panel is one of the most popular metal roofing systems for commercial buildings and can be installed on open structural roof framing or on the solid base layer of the roof. If allowed by building code, R-panel roofing is a good solution for retrofitting applications in which the metal panels are installed directly on the existing roofing material, eliminating the labor-intensive work of removing and the expense and waste of landfill disposal of old shingles. Give us a call when you need a Houston R-Panel Roofing Estimate.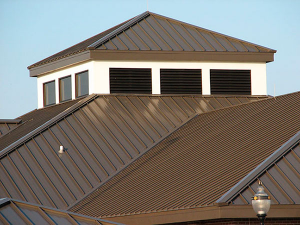 HOUSTON R-PANEL ROOFING SYSTEMS
There are many advantages of an R-panel roofing system over traditional roofs, including composite or asphalt shingles:
Low-maintenance. Maintenance may involve little more than an occasional hosing down.
Durability. The strength and long lifespan of metal roofs are legendary.
Easy installation. The savings in time installing a roof professionally are significant.
Energy efficient. The hot rays of the sun are reflected, lowering AC requirements and resulting energy bills.
Environmentally friendly. The material often consists of recycled material, and the panels can be 100 percent recycled.
THE APPEAL OF AN R-PANEL ROOF
The paint colors and finishes of R-panel roofing systems are nearly unlimited, offering great curb appeal to your home or commercial property. Contact the helpful customer service team at Strata Roofing and Construction, Houston, to set up a free consultation and estimate for R-panel roofing installation. We will help you select the roofing system for you and show you the variety of styles and colors available to tailor an appealing, finished look to your home or business. Let us show you our portfolio of winning roofing projects and R-panel projects.
COVERING THE HOUSTON METRO AREA AND SURROUNDING COMMUNITIES
The roofing experts at Strata Roofing and Construction have installed hundreds of metal roofs across the Houston Metro Area and surrounding communities, including Spring, Cypress, Sugarland, Katy, League City, Rockport and Lufkin.
Houston Office
4133 Katy Hockley Rd
Katy, TX 77493
Phone: (281) 819-6852
Lufkin Office
207 East Frank Street, Suite 107
Lufkin, TX 75901
Phone: (936) 206-5133
Commercial roofing requires skill and precision. Our expert roofers have years of experience installing and repairing roofs for commercial establishments
Whether it is a small roof leak, or a full roof replacement project, homeowners trust Strata Roofing and Construction to get the job done efficiently and affordably.
Our extensive construction services can make your home or business look like new.