Houston Standing Seam Roofing
Houston Standing Seam Roofing systems have panels that are orientated vertically on a roof with raised standing seams that lock into adjoining panels. Standing seam panels often have hidden, or concealed clip fasteners that allow panels to be attached to one another in the roofing system. Other types have visible fastening systems. This system of fasteners allows the metal panels to adjust to the variation in temperatures that create expansion and contraction.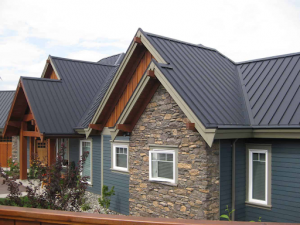 HOUSTON STANDING SEAM ROOFING IS AN IDEAL CHOICE
Standing seam panels are shaped metal sheets installed vertically on a roof substrate and locked together at the raised standing seams with either concealed or visible fasteners. Standing seam panels are somewhat similar to corrugated panels often seen on commercial or agricultural buildings. Standing seam panels, however, are more refined in appearance and typically are manufactured in a thicker gauge of material, which offers higher strength values.
Standing seam metal roofing panels make an ideal choice for a light-weight, durable, low-maintenance and wind- and rain-proof roofing system. Contact the standing seam roofing experts at Strata Roofing and Construction, Houston, for a free, no-obligation consultation and estimate to find out if a standing seam metal is a right alternative for your roofing project. We would like to be your advisor to help you explore the most-effective roofing option for your property while meeting your budget considerations.
PROVIDING THE HOUSTON METRO AREA AND SURROUNDING COMMUNITIES WITH STANDING SEAM ROOFING
Our professional roofing installation team has built up impressive expertise in standing seam roofing over the years. Strata Roofing and Construction serves the Houston Metro Area and surrounding communities, including Spring, Cypress, Sugarland, Katy, League City, Rockport, and Lufkin.
Houston Office
4133 Katy Hockley Rd
Katy, TX 77493
Phone: (281) 819-6852
Lufkin Office
207 East Frank Street, Suite 107
Lufkin, TX 75901
Phone: (936) 206-5133
Commercial roofing requires skill and precision. Our expert roofers have years of experience installing and repairing roofs for commercial establishments
Whether it is a small roof leak, or a full roof replacement project, homeowners trust Strata Roofing and Construction to get the job done efficiently and affordably.
Our extensive construction services can make your home or business look like new.