Houston Concrete Tile mimic the appearance of classic clay tiles but costs approximately 30 to 50 less. Interestingly, concrete tiles are used on more houses than clay tiles in the United States. Both concrete and clay tiles are fire resistant and durable but the greatest advantage concrete tile has over clay tile is its much lower cost. Overall, clay tiles last longer than concrete tiles, but the concrete type is long lasting, with an operational life estimated at 25 to 50 years. Clay tiles generally hold their color better than concrete tiles whose color fading is more vulnerable to weather conditions.
Both concrete and clay roofing tiles are solid and secure, but relatively heavy. If you are considering concrete tiles for your home, make sure you have a professional evaluate the home's structural integrity and rate the ability of the roof to carry a heavy load. Reinforcement of the roof may be necessary to be able to install concrete or clay tiles. Concrete roofing tiles are manufactured by combining cement with sand and water, applying heat and pressure to mold them. Concrete tiles can weigh nearly 45 percent more than clay tiles and absorb more water than clay, so weight considerations should be carefully evaluated. Clay tiles, however, can more easily break in colder climates than concrete.
Strata Roofing and Construction, Houston, offers years of experience in expert installation of concrete tiles and can explain the considerations for the different slopes of roofs, the need for a waterproof layer under the tiles and tile fasteners. We can show you the myriad options, styles, and colors available for residential concrete roofing tiles.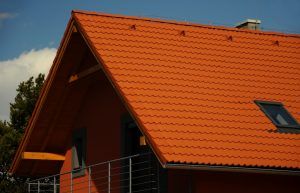 WE PROVIDE HOUSTON CONCRETE TILE FOR THE HOUSTON METRO AREA AND SURROUNDING COMMUNITIES
Strata Roofing and Construction installs concrete roof tiles on homes in the Houston Metro Area and surrounding communities, including Spring, Cypress, Sugarland, Katy, League City, Rockport, and Lufkin.
Strata Roofing is fully licensed, bonded and insured in Texas and an Accredited Business with Better Business Bureau since 2008 with an A+ rating. Check out the latest reviews from our customers on Top Rated Local. Strata Roofing is a certified Weather Stopper Roofing Contractor with GAF, a Certainteed ShingleMaster and Master Shingle Applicator with Saint-Gobain.
Houston Office
4133 Katy Hockley Rd
Katy, TX 77493
Phone: (281) 819-6852
Lufkin Office
207 East Frank Street, Suite 107
Lufkin, TX 75901
Phone: (936) 206-5133
Commercial roofing requires skill and precision. Our expert roofers have years of experience installing and repairing roofs for commercial establishments
Whether it is a small roof leak, or a full roof replacement project, homeowners trust Strata Roofing and Construction to get the job done efficiently and affordably.
Our extensive construction services can make your home or business look like new.