Strata Roofing and Construction, Houston, provides expert advice and installation for roofing using TPO or single-ply roofing membranes using Thermoplastic Polyolefin, a popular and resilient roofing material. Houston TPO Roofing is resistant to both heat and ultra-violet light is a yet cost-effective compared to other roofing methods. It was introduced during the 1990s as a cheaper and better option than polyvinyl chloride or PVC. The single-ply TPO product actually is made up of three materials: the TPO substrate, a fabric layer fortified with polyester and the top TPO compound layer with fillers composed of many different materials, including fiberglass.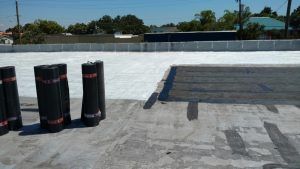 INSTALLATION OF HOUSTON TPO ROOFING FOR THE HOUSTON METRO AREA AND SURROUNDING COMMUNITIES
The roofing experts at Strata Roofing and Construction can help you determine if TPO is the right roofing solution to meet your needs. The main advantage of TPO roofing is its lower cost compared to PVC roofing. TPO is a strong material, mitigates the growth of mold and fungus. The product's wide sheet format is easy and fast to install and is a flexible product that works for a wide variety of building configurations and sizes. TPO's insulating qualities conserves energy, and the light colors and reflective exposed outer covering help property owners save money on their utility bills.
TPO is a product that is relatively new to the market, so it may require a few more years to determine how long the roofing material lasts.
Strata Roofing and Construction provides consultation and installation of TPO roofing to home and business owners in the Houston Metro Area and surrounding communities, including Spring, Cypress, Sugarland, Katy, League City, Rockport, and Lufkin.
It is advisable to hire a reputable contractor with extensive experience installing TPO. Strata Roofing and Construction is fully licensed, bonded and insured in Texas and is an Accredited Business with Better Business Bureau since 2008 with an A+ rating. Take a look at our latest reviews from our customers on Top Rated Local. Strata Roofing is a certified Weather Stopper Roofing Contractor with GAF, a Certainteed ShingleMaster and Master Shingle Applicator with Saint-Gobain.
Houston Office
4133 Katy Hockley Rd
Katy, TX 77493
Phone: (281) 819-6852
Lufkin Office
207 East Frank Street, Suite 107
Lufkin, TX 75901
Phone: (936) 206-5133
Commercial roofing requires skill and precision. Our expert roofers have years of experience installing and repairing roofs for commercial establishments
Whether it is a small roof leak, or a full roof replacement project, homeowners trust Strata Roofing and Construction to get the job done efficiently and affordably.
Our extensive construction services can make your home or business look like new.