Houston Fire Damage Repair
A fire damaged roof is a serious consequence, requiring an experienced restoration contractor who can handle the job. A fire-damaged roof is typically not a straight-forward roof repair or replacement. Often the underlying materials of a fire-damaged roof are damaged or destroyed and the structural components such as beams and rafters are charred and need to be replaced. Call us today if you need a Houston Fire Damage Repair Estimate.
The roof repair experts at Strata Roofing and Construction, Houston, can help you by:
Providing an inspection and estimate for repairs.
Consulting with you on the best options for restoring and repairing your fire-damaged roof.
Guiding you through the process of working with your insurance carrier.
Completing repairs to any roofing materials and structural components of your roofing system, including rafters, beams, ridge boards, solid decking, vent pipe flashings, gutters, ridge boards, eave components, fascia, sub-fascia, soffits, vents, sheathing, underlayment materials shingles, tiles, and other materials.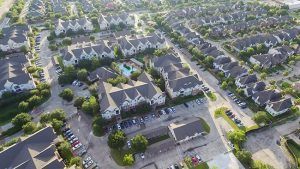 THE HOUSTON FIRE DAMAGE REPAIR EXPERTS
Strata Roofing and Construction understands the construction of homes and businesses in the Houston Metro Area. We can smoothly guide you through the process of roof repair and replacement, making the experience as painless as possible. We serve communities surrounding Houston, including Spring, Cypress, Sugarland, Katy, League City, Rockport, and Lufkin.
A solid, reliable and honest roofing company should have a long list of satisfied customers. Gain the confidence of relying on a leader in roofing repairs for fire-damaged homes and business. Strata Roofing is fully licensed, bonded and insured in Texas and an Accredited Business with Better Business Bureau since 2008 with an A+ rating. Our top objective is achieving 100-percent satisfaction with our customers. Check out the latest reviews from our customers on Top Rated Local. Strata Roofing is a certified Weather Stopper Roofing Contractor with GAF, a Certainteed ShingleMaster and Master Shingle Applicator with Saint-Gobain.
Houston Office
4133 Katy Hockley Rd
Katy, TX 77493
Phone: (281) 819-6852
Lufkin Office
207 East Frank Street, Suite 107
Lufkin, TX 75901
Phone: (936) 206-5133
Commercial roofing requires skill and precision. Our expert roofers have years of experience installing and repairing roofs for commercial establishments
Whether it is a small roof leak, or a full roof replacement project, homeowners trust Strata Roofing and Construction to get the job done efficiently and affordably.
Our extensive construction services can make your home or business look like new.