Metal Roofing Fabrication
Strata Roofing and Construction, Houston, has fabricated hundreds of thousands of square feet of metal roofing on commercial and residential structures in the Houston Metropolitan Area. We merge industry-best materials and custom installation for the best-engineered solutions for your roofing requirements. We offer a large range of metal roofing products from all leading metal roofing manufacturers along with a virtually unlimited combination of colors, finishes, gauges, styles and material types. We customize the metal roofing fabrication to meet the specific design needs of the particular building to achieve a perfect match for your property. We are the best when you need Houston Metal Roofing Fabrication.
Houston Metal Roofing Fabrication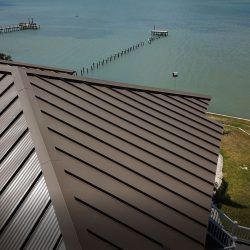 The experienced metal roofing experts at Strata Roofing and Construction are available to assist you in selecting the most effective metal roofing to meet the requirements, appearance, and budget of your roofing project. We will acquire and fabricate the metal roofing panels, components and trim to expertly install on your property.
Metal roofs can last up to four times longer than other conventional types of roofing, including shingles. Metal roofing is resistant or impervious to decay, heat absorption, leaking, and wind. Metal roofs are nearly free of maintenance requirements, too.
SERVING THE HOUSTON METRO AREA AND SURROUNDING COMMUNITIES
Strata Roofing and Construction is the leading choice for metal roofing system installation in the Houston Metro Area. We excel at new installation, re-roofing and retrofitting roofs with metal roofing systems. Along with metal roofing panels, we provide the accessories, including caps, copping, edging, flashing and other components to complete a custom metal roof fabrication job. Strata Roofing and Construction serves the Houston Metro and the surrounding area, including Spring, Cypress, Sugarland, Katy, League City, Rockport, and Lufkin.
Houston Office
4133 Katy Hockley Rd
Katy, TX 77493
Phone: (281) 819-6852
Lufkin Office
207 East Frank Street, Suite 107
Lufkin, TX 75901
Phone: (936) 206-5133
Commercial roofing requires skill and precision. Our expert roofers have years of experience installing and repairing roofs for commercial establishments
Whether it is a small roof leak, or a full roof replacement project, homeowners trust Strata Roofing and Construction to get the job done efficiently and affordably.
Our extensive construction services can make your home or business look like new.