Houston Synthetic Slate Roofing
Imagine the sheer beauty of slate without the extreme weight and expense. Think Houston Synthetic Slate Roofing for distinctive, durable and affordable roofing material. Faux slate mimics the size, thickness and colors of natural stone slate at the fraction of the cost. Synthetic slate tiles are made up of composites, manufactured to standards that appear like real slate, but are much lighter than slate and are very strong and durable. Another advantage is that the synthetic slate is less brittle than natural stone, mitigating shattering that can often damage natural stone tiles when people walk on them, when heavy objects are dropped on them and when conditions are cold. Synthetic tiles are lighter and easier to manipulate and move, making installation faster, more efficient and more affordable.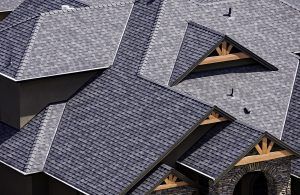 Contemporary synthetics provide a roofing tile that looks just like natural stone, however, cost 45 to 65 percent less. This impressive roofing option also is much lighter, allowing it to be installed on a wider range of home constructions. It is very strong and resistant to cracking, damage, dirt, fading, fire and all types of severe weather.
Synthetic slate roofing tiles are made from a variety of materials, such as asphalt, cement, clay, composites, fibers, rubber, steel and combinations of these materials. Each manufactured product has its own distinct pros and cons, which our roofing technicians can explain and discuss with you. Proper installation is key, and we have extensive experience in preparing the underlying structure, applying the underlying protective roofing layers and installing the synthetic slate tiles.
SERVING THE HOUSTON METRO AREA AND SURROUNDING COMMUNITIES FOR HOUSTON SYNTHETIC SLATE ROOFING
Learn about the exciting advantages offered by modern synthetic tiles for your roof. The highly experienced roofing experts at Strata Roofing and Construction, Houston, offer complimentary consultation on which roofing materials would be the best match for your home, needs, and budget. Strata Roofing & Construction serves the Houston Metro Area and surrounding communities, including Spring, Cypress, Sugarland, Katy, League City, Rockport, and Lufkin.
Houston Office
4133 Katy Hockley Rd
Katy, TX 77493
Phone: (281) 819-6852
Lufkin Office
207 East Frank Street, Suite 107
Lufkin, TX 75901
Phone: (936) 206-5133
Commercial roofing requires skill and precision. Our expert roofers have years of experience installing and repairing roofs for commercial establishments
Whether it is a small roof leak, or a full roof replacement project, homeowners trust Strata Roofing and Construction to get the job done efficiently and affordably.
Our extensive construction services can make your home or business look like new.