Houston Real Slate Roofing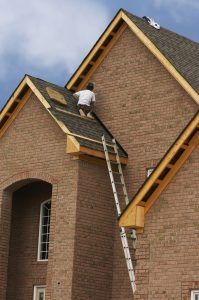 Houston Real Slate roofing is known for how sturdy, beautiful and long-lasting they are. Slate roofing tiles have many advantages as a high-quality choice of roofing material, including its superior curb appeal. Slate used on roofs is sized from natural stone and offers a high-end look of class and elegance to a home. The natural material brings out a slight range of color running across the whole roof. The longevity of slate roofs is unmatched, with some slate roofing systems lasting as many as 175 years. Some historical buildings have slate roofs that are even older and still very much functional.
There are a few considerations that may be viewed as disadvantages. Real slate roofs can be at the upper end of roofing budgets, and finding a reputable roofing company that has experience installing slate roofs can be difficult because slate is used much less than lower-priced roofing materials such as shingles. When you are considering real slate for your roof, call an experienced slate roof installer—Strata Roofing and Construction, Houston. We understand that the natural stone composition of the real slate may not be gaged, meaning thickness can vary slightly. We know how to accommodate this and will make your slate roof look beautiful.
By its very nature, slate is heavy and needs a roofing structure solid and robust enough to support the extra weight. We can help you determine if your home is constructed to support a real slate roof. Also, care must be taken when service people access your roof as slate can be damaged. Cracked or missing slate tiles certainly can be replaced, but it may be challenging to find an exact color match for the natural stone.
SLATE ROOFING INSTALLATION FOR THE HOUSTON METRO AREA AND SURROUNDING COMMUNITIES
Talk to the professionals about real slate roofing installations—Strata Roofing and Construction. We serve the Houston Metro Area and surrounding communities, including Spring, Cypress, Sugarland, Katy, League City, Rockport, and Lufkin.
Houston Office
4133 Katy Hockley Rd
Katy, TX 77493
Phone: (281) 819-6852
Lufkin Office
207 East Frank Street, Suite 107
Lufkin, TX 75901
Phone: (936) 206-5133
Commercial roofing requires skill and precision. Our expert roofers have years of experience installing and repairing roofs for commercial establishments
Whether it is a small roof leak, or a full roof replacement project, homeowners trust Strata Roofing and Construction to get the job done efficiently and affordably.
Our extensive construction services can make your home or business look like new.