A Houston 5-V crimp Roofing System is a classic type of roofing system long seen on buildings on the farm and rural areas but is becoming a popular roofing design for homes in Texas. The 5-V crimp product stands up to the demanding weather of our Houston, Texas, region. The panels of a Houston 5 V-crimp Roofing System are installed on a solid roof decking and may be set directly over a shingled roof as a retrofit if it is allowed by the building code and advised by a professional roofing contractor.
The panels feature the classic five inverted V-shaped crimps and are available in a stunning unpainted finish or in dozens of beautiful color schemes to find a perfect match for your home or business. Roofing technicians at Strata Roofing and Construction, Houston, are ready to help you determine if 5 V-crimp is an effective option for your property.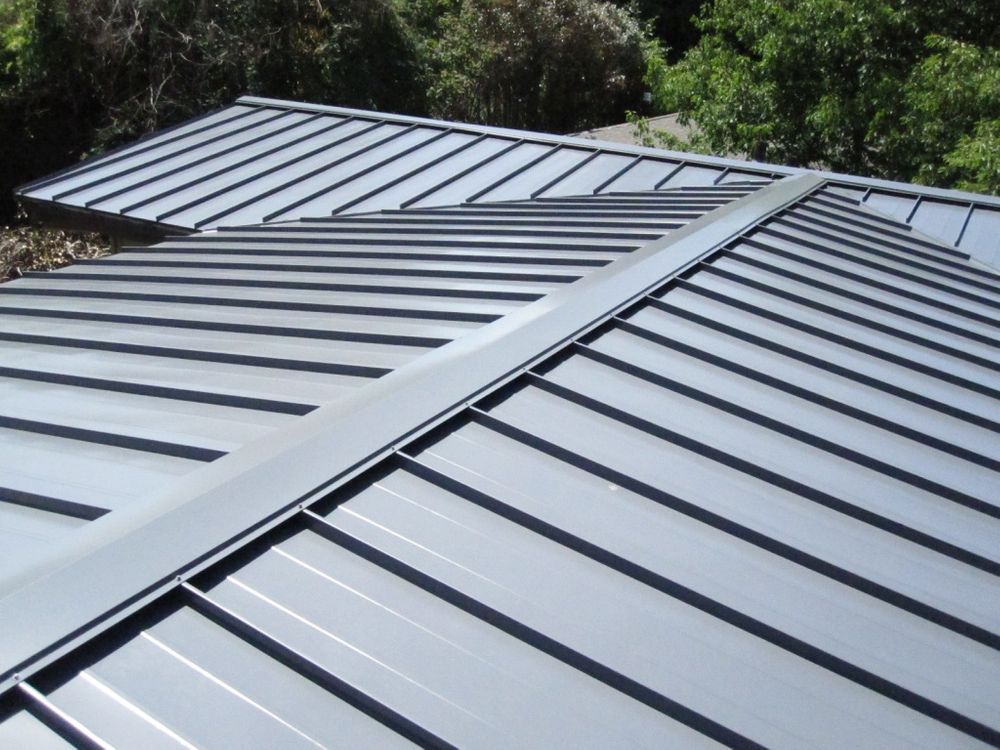 ADVANTAGES OF HOUSTON 5 V-CRIMP ROOFING SYSTEM
Long installed on barns and farm buildings in rural areas, more and more homeowners are discovering the unbeatable classic design, practicality, and affordability of 5 V-crimp roofing. In fact, 5V roofing has become the most widely installed metal roofing category in some regions. The roofing type offers a number of advantages over conventional roofing systems:
Durability. Many Houston 5 V-Crimp Roofing products can last the life of the building. Warranties of 25, 30 and 40 years are available on paint.
Strength. Panels are available in 26-gauge aluminum, high-strength steel, coated steel or zinc galvanized steel.
Weathertightness. The overlapping panels are excellent at reducing and eliminating chances of leaks. They are especially popular and effective in coastal areas affected by marine-influenced weather.
Easy installation. Gain the savings of fast installation time.
Low or no maintenance. Just hose them down to keep debris off.
Affordability. The relatively low initial cost of the product and installation, along with its long lifespan, combine to make 5-V crimp roofing an affordable option.
INSTALLING 5-V CRIMP ROOFING IN THE HOUSTON METRO AREA AND SURROUNDING COMMUNITIES
The roofing experts at Strata Roofing and Construction will show you how 5V crimp panels are an attractive solution for your new roof. We serve the Houston Metro Area and surrounding communities, including Spring, Cypress, Sugarland, Katy, League City, Rockport, and Lufkin.
Houston Office
4133 Katy Hockley Rd
Katy, TX 77493
Phone: (281) 819-6852
Lufkin Office
207 East Frank Street, Suite 107
Lufkin, TX 75901
Phone: (936) 206-5133
Commercial roofing requires skill and precision. Our expert roofers have years of experience installing and repairing roofs for commercial establishments
Whether it is a small roof leak, or a full roof replacement project, homeowners trust Strata Roofing and Construction to get the job done efficiently and affordably.
Our extensive construction services can make your home or business look like new.