HOW TO KEEP YOUR GUTTERS CLEAN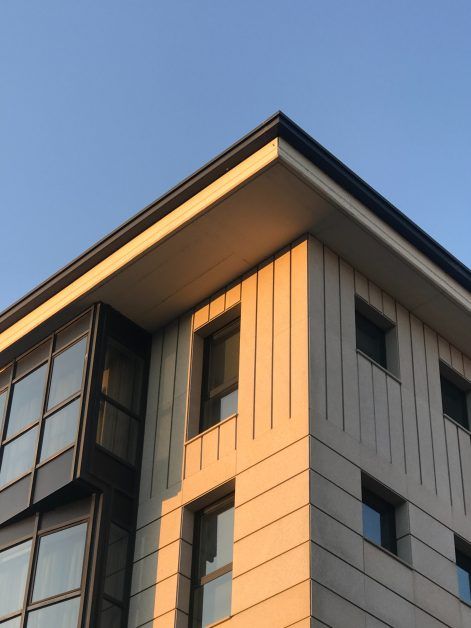 Let's be honest, cleaning the gutters of your home is probably one of the most dreaded chores and because of that it can get pushed onto the back burner and it doesn't get done as often as it should. Properly functioning gutters are extremely important, not only to help clear water off your roof but they also ensure that nothing leaks into your home. There are several ways to get this done if you decide to do it yourself, or you can hire someone to do it for you! At Strata Roofing and Construction we do all types of gutter cleaning, so you can just sit back and relax while we do all the work!
Now let's get into it. This article will be able to give you some ideas of how to clean your gutters yourself, or it will give you an idea of what you don't want to do yourself and you'll be able to hire someone else to do it!
Clean with a Leaf Blower
This may be one of the easiest ways to clean your gutters. Many leaf blowers come with a nozzle attachment that is designed to release a narrow stream of air, which is great for gutter cleaning! If you position your ladder to work toward the downspout, you'll be able to blow out dirt and debris as you go. However, make sure you aren't blowing leaves into the downspout. Then you can remove and lingering leaves or dirt with a hose. You'll also be able to tell if your spout is cleared out. If you don't want to stand on a ladder, most blowers have an attachment that can help extend the reach of your leaf blower.
Clean with a Wet/Dry Vacuum
This is a great way to clean your gutters if you have heavier debris to remove. Many local home improvement stores carry these attachments that you'll need to either do this while on a ladder or from the ground at a standing position. Be aware that stubborn stuck on dirt may need to be moistened before it will be able to go into the vacuum. Once you've removed the bulk of the material, you'll be able to flush the gutters and downspouts with water from a normal garden hose.
Clean with a Power Washer
If you can't even remember the last time you washed and cleaned your gutters, a powerwash may be the pick for you. Especially if there are many layers of dirt and debris that has built up overtime or if your gutter is clogged, you're going to want to power wash it. Be aware, if you do opt for a power washer, this can get messy real quick. Make sure that you're wearing clothes that you don't mind getting dirty and make sure that you have a good stance whether your on the ground or on a ladder.
Clean with a Garden Hose
As long as your gutters are not clogged, you can always clean your gutters with a garden hose. You'll want to make sure that you have the right equipment, and that your hose is attached with a rigid tube with a curved end. If you are cleaning with a garden hose, make sure that you pick out and heavy or larger debri since this will not be able to be cleaned through the hose. Once again, you'll start farthest from the downspout and flush the length of the channel.
Clean by Hand
In order to clean your gutters by hand, you're going to need some basic materials like a bucket, a scoop, and some heavy duty gloves. Cleaning your gutters by hand can be a very meticulous way to clean it, but sometimes it's the most cost-efficient and sturdy way to get it done. It's also a great way to make sure that you get everything out and are not just flushing it down the downspout.
Remember that you can always install some type of screen or barrier on the top of your gutters which will help prevent any leaves or debri from accumulating over time. It might be a pain at the time, but it will save you so much work in the long run.
Now that you've read all about the various ways to clean your gutters, you can finally decide whether or not you want to hire someone to do it or do it yourself. If you want to do it yourself, more power to you, but if you want to hire someone, we at Strata Roofing and Construction are here to help you in the Houston area. Call us today at (281) 819-6852.
CONTACT INFORMATION
Houston Office
4715 Pinemont Dr. Suite C
Houston, TX 77092
Phone: (281) 819-6852
Lufkin Office
207 East Frank Street, Suite 107
Lufkin, TX 75901
Phone: (936) 414-8172

Commercial roofing requires skill and precision. Our expert roofers have years of experience installing and repairing roofs for commercial establishments

Whether it is a small roof leak, or a full roof replacement project, homeowners trust Strata Roofing and Construction to get the job done efficiently and affordably.

Our extensive construction services can make your home or business look like new.